Overview
The rise of digital shopping platforms like Amazon, eBay, Alibaba, etc. has made sellers easy to earn money and also opened a door for scammers to scam people.
Today's technology generation is where everything is available online, whether you want to order food or do online shopping, all this is possible with just 1 click. In this condition, it becomes very easy to run a scam either on social media networking sites or on selling platforms.
In this blog, let's cover the scam behind the Fake Apple AirPods, selling on Facebook Marketplace.
Introduction: Ordered Fake Apple AirPods
The scam began with residents of Prince Edward Island, Canadian Province when they received Fake Apple AirPods, ordered on Facebook Marketplace.
A resident of Cornwall, Md Nayeem Shazib, purchased a second-generation AirPods Pro from a local seller through Facebook Marketplace for $150 availing cheaper than the original price of $329 plus tax on Apple Canada's website.
Shazid the buyer of Fake Apple AirPods, initially verified the serial number of the Apple AirPods was matched with a genuine Apple product. But when he ordered a second set of Apple AirPods for his friend Ashraf Jama, he found the same serial number as the one, that he bought earlier, showing a clear message of a scam.
Also Read:
Power Pulse Gear Robot Vacuum Review | Is it a Scam or Legit?
One of Shazid's friends, Ashraf Jama, also purchased Apple AirPods but was found to be a victim of Fake Apple AirPods. They both bought it from a different seller through the Facebook Marketseller but found the same serial number for both sets of Fake Apple AirPods.
Both the victims have reported this scam to the PEI RCMP.
Proof of Fake Apple AirPods
According to the buyers, we found that both sets of Apple AirPods with the same serial numbers were Fake Apple AirPods.
Here's the official image from the box of both sets of Apple AirPods.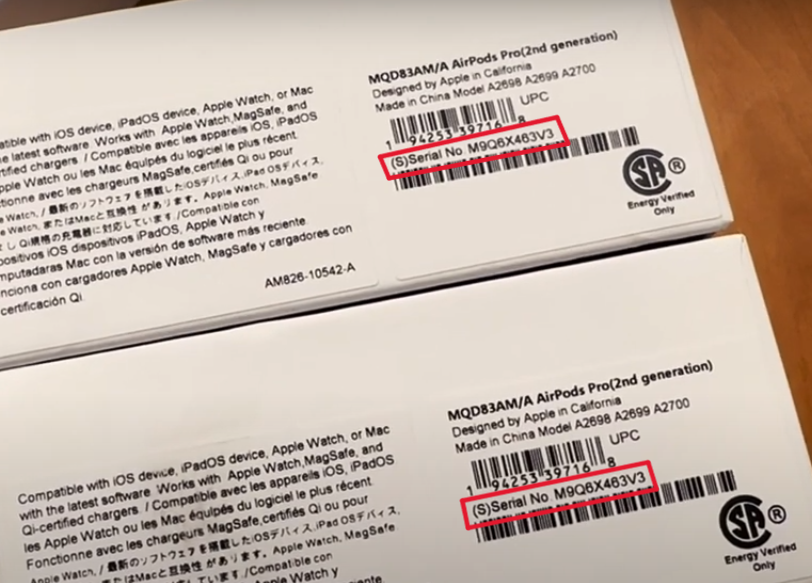 For more details, you can check out the YouTube video released by SaltWire, in which the buyer Md Nayeem Shazib, explained how he unknowingly became the victim of scammers by receiving the two sets of Fake Apple AirPods.
Awareness of Fake Apple AirPods
Jesse Campbell-Johnston, who works as a mobile phone repairer at Mobile Klinik in Charlottetown, has observed that Fake Apple AirPods are getting more and more different from the real ones. He pointed out that these imitation products are so well-made that it's becoming hard to tell them apart from the genuine ones. He also mentioned that the old method of verifying the originality of these products by checking their serial numbers is no longer enough.
Johnston advises buyers to stay away from scams especially related to claiming the original products on behalf of genuine products. Buyers need to verify the seller's information before making a purchase and if it is necessary do verify the listing products as well.
How to avoid online product-selling scams?
It is very important to verify the all details (like seller and product information) before buying something from online platforms such as Amazon, Facebook Marketplace, eBay, etc. to avoid becoming the victim of scammers. Scammers are around us and ready to scam us in any way they can.
1. Know Your Seller: Many online sites recommend you to know your seller and products by visiting a local shop. You need to verify whether the seller is real or claiming to be or whether the product is legitimate or not.
2. Cash Payments: Only make payments with cash if you are not aware of the seller.
3. Use the official website: Always try to purchase products from the official product or online e-commerce website. Don't fall for the cheap price scammy plans.
4. Avoid Mobile Payments: Don't make an online payment, if you don't have much information about the seller and products.
5. Verification Codes: Don't share your secret OTP or order confirmation details with anyone, claiming to be a seller or the delivery agent.
6. Report Scams: If someone tries to cheat you, report it to the local authorities and provide them with all details regarding the seller and product.
7. Beware of Phishing Emails: Be cautious of emails from strangers asking for sensitive account information.
8. Identity Theft: Be aware of identity theft where scammers make purchases with your financial information.
9. Adhere to Site Guidelines: Don't stray from the site's usual processes or payment methods — many sites require you to adhere to these guidelines to receive protection.
10. Stay Alert: Always stay alert from such scammers pretending to be real sellers of the company. Stay connected with the official company's news and updates to be aware of the original products.
Conclusion
It is always recommended to purchase products by verifying the seller and product legitimacy. Since online e-commerce websites are on the internet scammers have made it easy to scam people by pretending to a real sellers or delivery agents from the company. It is not easy to catch a scam plan but the one that can save you is verifying the details from your side and if it seems something wrong, must check the information on the internet or by visiting the local shop.
Also Read:
Viralie Scam: $4.99 Retro Gaming Console Scam, Exposed!
FAQs
What is Facebook Marketplace?
A Facebook Marketplace is the official site launched by Meta, which is the online platform or destination to discover, buy, and sell products online.
Where you can purchase original Apple AirPods from?
You can buy the real Apple AirPods from the official Apple website, online e-commerce like Amazon, and Flipkart, and the official local store.
Note: Always verify all details related to the seller and products before buying.